Preschool Prep Company's® placemats and wall hangings make great gifts for any child.
Size of 11 x 17 inches.
Laminated finish for easy clean up.
A wonderful way to help children learn to spell their names.
All their friends from any of the Preschool Prep Series™ will keep them company during breakfast, lunch and dinner.
Makes a great wall hanging in any toddler's room.
Pictured above: Meet the Letters, Meet the Numbers, Meet the Shapes, Meet the Colors, Meet the Sight Words 1, 2 & 3, Meet the Blends, Meet the Digraphs and Meet the Letter Sounds.
Also Available: Customized Placemats
Customized with a child's name or favorite character(s) from the Meet the Letters DVD.
A wonderful way to help children learn to spell their names.
Available in 3 different backgrounds:

Blue sky / green grass
Flying airplane with banner
Princess castle background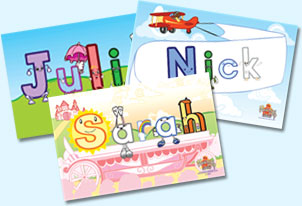 (Click here for
Customized
Placemats)